Koval Distillery
On Chicago's North side Andersonville neighborhood, along side the Metra commuter rail line tracks that head north to the affluent North Shore, lies a little-known gem of a distillery called Koval.
About Koval
Koval is a boutique distiller. Despite this, it makes twenty-six different products, each one as carefully prepared and packaged as the next. It starts with one of five different grains: rye, oats, wheat, millet or spelt. It then creates a mash that is allowed to ferment. Finally, the mash is distilled into the spirits used to complete processing. Some of the spirits become clear products, like their Midwest Wheat Whisky. Some goes into barrels to age. Ageing gives the finished product the various hues of amber familiarly associated with bourbons. Some of the product is made into liqueurs of various kinds. Koval liqueurs have a marvelous, light and delicate flavor without the thick, syrupy consistency of most other products.
Koval is rapidly expanding. Their products are quickly gaining a reputation for quality and distinctive character. They have begun distributing in California and in Louisianna. Look for Koval to grow rapidly in the months and years ahead as their craftsmanship and attention to detail make their products in great demand.
All of Koval's products are both organic and Kosher.
Touring Koval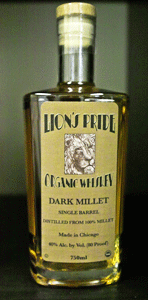 For an interesting hour and a half, try taking the tour of the distillery. You'll learn things you never before knew about spirits, how they are made and what makes a quality product and what makes a merely mediocre one. You'll also get to sample many of the products in the Koval line. Of course, any of the Koval products are available for purchase following the tour.
Here's a Preview of the Distillery
You can see something of what to expect on a Koval tour here.
Contacting Koval
To plan a visit to Koval for a tour or to purchase some of their products in their store, visit the Koval website.