Current Organizations
I have a limited number of organizations that I work with, primarily because in order to do a quality job one must limit one's commitment to a feasible level. These are my current interests. (Click on the organization name to open the accordion.)
Odradek Theatre Company (January 2011)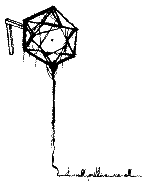 Visit Odradek Theatre Company's website here.
You can also visit Odradek Theatre Company Information for comprehensive organizational and artistic background and information.
I started working with Odradek when a friend invited me to participate. Since then I have:
Incorporated Odradek Theatre Company as a nonprofit Illinois corporation.
Written the corporate by-laws and subsequent amendments.
Served as Finance Manager.
Been elected to the Board of Directors.
Been elected to the office of Treasurer.
Established the fund and program accounting system, established the chart of accounts, acted as bookkeeper.
Secured the web presence for the Corporation.
My current priorities are:
Secure a favorable 501(c)(3) ruling from the IRS.
Secure tax a tax exempt ruling from the State of Illinois.
Register with the State of Illinois as a charitable organization.
Design and implement a fund raising program.
Arts & Business Council of Chicago (August 2011)

Visit Arts & Business Council of Chicago's website here.
This is a new activity for me. I became involved for a variety of reasons:
To meet other like-minded business professionals.
To contribute to a broader range of performing arts nonprofits.
To gain experience in a variety of activities and projects that I might otherwise not have an opportunity to experience in the short term.
This organization is very well run and organized and display significant professionalism when accepting me as a volunteer. While I haven't participated in any projects as yet (September 2, 2011) I have indicated that I am interested in at least one upcoming effort and expect to be slated as soon as remaining project team members can be located.
Past Organizations
Over the years I participated in a number of nonprofit and community organizations, perhaps more than I can even remember. Here are the ones I do remember and a little bit about the role I played and some of the achievements I was privileged to realize.